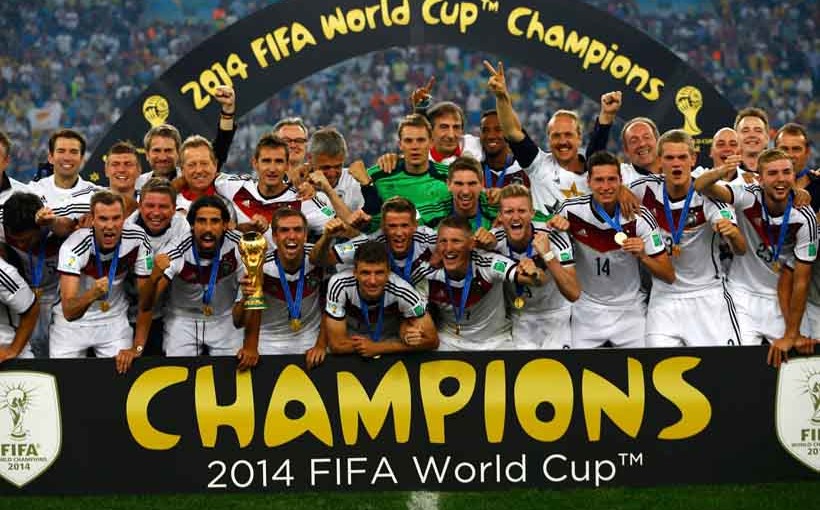 (image credit: parhlo.com)
July 13th was a historic day for Germany as they lifted the World Cup after a 24-year-old wait. In a tense and exciting final that lasted beyond full time, 'Super Mario' Gotze came in as a super-sub and scored the winner with seven minutes to spare at the end of extra time. It had all the drama, excitement and tragedy that befit a final. Germany seemed destined to win this one, but Argentina did not make their job any easier in the entire course of 120 minutes.
Considering the pressure both teams were in, from the first whistle it seemed that both Germany and Argentina were playing defensively in order to avoid an early upset. By the time 90 minutes were over, one could tell both sides were holding off towards extra time. It would make sense in a pressure-cooker final like this, that a goal in extra time would put the conceding side in an extremely difficult position.
Having said that, both sides did try to break the deadlock in the first 90 minutes, with Argentina using the momentum gained on counter-attacks. Argentine skipper Lionel Messi and Gonzalo Higuain unfortunately failed to make their chances count. Both these quality forwards lacked in the finishing department especially when they had been set-up with some fine chances. The Barcelona forward missed a sitter when his trademark left-foot shot went wayward. Higuain put one past Manuel Neuer's net but the flag had already been raised.
The pressure was always on Messi to deliver considering his reputation as the best player in the world. Having been criticized on occasions for not able to win his country the gold trophy despite his incomparable talent, he was hoping to set the record straight. Germany knew they had to keep him quiet, and without a target man like Angel Di Maria, Messi was handicapped. Ezequiel Lavezzi was replaced on half time by Sergio Aguero who failed to reproduce his stellar form from his time with Manchester City.
Germany brought in André Schürrle earlier in the first half who provided the extra pace needed in the middle. Thomas Muller, Miroslav Klose and Bastian Schweinsteiger were all getting into the right positions but finishing was poor. At the close of half time, a header by defender Benedikt Höwedes hit the right post and when Muller got the ball, he was already offside. Schweinsteiger took a knock under his right eye, bled, left the field and came back ready for battle once more. He took home a scar that he would proudly show his grandchildren one day.
BBC's stats reveal there were no shots on target from Argentina and Germany had five chances. Regardless of the chances, only one shot counted and that came from Mario Gotze with seven minutes left on the clock in extra time. While it seemed evident, both teams would settle for penalties, Gotze took a comfortable chance chesting a cross from Schürrle and placing it in the net stunning Sergio Romero.
Messi now had to be the hero for his country. The four-time Ballon d'Or winner and Barcelona striker had all the skills and experience necessary to score a goal out of nowhere, as he did against the likes of Iran earlier on in the tournament. That moment came in the dying minutes of extra time in the form of a wasted free kick. Not long after that, the ref sounded the final whistle and Germany celebrated a well-deserved victory.
As the fireworks lit the Rio de Janeiro sky, one would be reminded that football is a beautiful yet cruel game. It is these finals, when the loser feels that on a different day, it could have been them celebrating. However, Germany looked the stronger and tactical unit and deserved the plaudits. Argentina fought hard but one kept wondering if Messi was even playing. He took home the Golden Ball but it was Germany who took home the biggest prize in international football. It was a fitting end to the night of champions!
Tweet